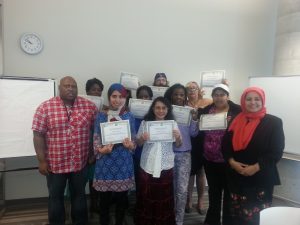 This summer, our Global Citizenship course was a success. The course curriculum was developed by Chris Harris, CCL&D's Academic Upgrading Counselor, the course was taught by Najia Zewari, a leader of the modern Afghan Women's movement with 20 years' experience organizing the Afghan Women's Network and working for United Nations (UN).
10 Academic Skills Upgrading learners came out to the course each week to discuss, analyze, and debate a wide range of local and global social justice issues affecting South Asia, the Middle East, Africa, and Canada's First Nations. All of the newcomer learners and instructors shared their personal experiences, successes, and life challenges growing up in their home countries, and immigrating to Canada. Leaners who grew up in Canada spoke of their experiences as racialized people in a multicultural society.
Highlights included:
An excellent presentation from current IWIP trainee Winnie M. on her work as a government worker and Human Rights advocate.
Visiting the South Asian Women's Centre to learn about the complexities of violence against women in Toronto's South Asian communities.
At the Afghan Women's Organization, we learned of the comprehensive newcomer services they offer to support newcomer Afghan women, elders, children and youth in Toronto.
On a fieldtrip to Council Fire, learning about First Nations history and culture along with recent developments stemming from Canada's Truth and Reconciliation Commission.
One of our most enjoyable classes introduced us to drumming from across the globe and a traditional Eritrean song taught to dance to in a circle by Pierre Mathews, a global citizenship learner who used to live there.
CCL&D would like to thank our instructor Najia Zewari and all of our AU learners for making the course such a memorable experience. You are all truly global citizens!