Food Processing Essential Skills Program
Workplace & Manufacturing Safety
🎓 Certificate
The Food Processing Essential Skills Program is a free online workplace & manufacturing safety training program.  The courses provide participants with current and relevant training and skills for obtaining employment in the food processing and hospitality industries. Due to the effects of COVID-19, the need for food processors is steadily increasing as grocery, hospital food service, and prepared food industries have seen a drastic increase in demand.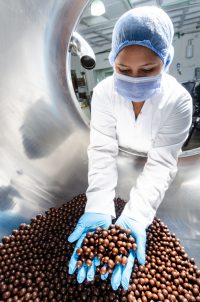 The 4-week program is a combination of online self-study with live weekly check in sessions hosted on Zoom featuring
food industry professionals and guest speakers.
Program participants will be provided with course materials accessible via an online learning management system (LMS) to complete work at their own pace.
All learning modules are narrated and suitable to those with a CLB of 4.
A nationally recognized certificate issued jointly by Food Processing Skills Canada and the Centre of Learning & Development will be awarded upon successful completion of the program.
Additions to the program in the new year include:
Expanded modules to support food entrepreneurship and new COVID related kitchen protocols
Opportunity to complete in-person training in a professional commercial kitchen alongside the virtual training
Option to continue training and learning more skills and competencies once completing the initial training requirements
Cost: Free
Location: Virtual
Length: 40 hours of self-study work over the course of 4 weeks to be completed at participant's pace, with an optional 5th week for employment related training.  It is recommended that participants allocate 10-12 hours per week to complete the program.
Upcoming Cohort: January 24th, 2022
Objectives: Program participants can expect to learn valuable skills and required knowledge for obtaining employment, with a focus on food industry fundamentals such as:
Food Safety & Sanitation
Good Manufacturing Practices
Distribution & Warehouse Safety
Hazard Analysis & Critical Control Points
Digital Tech Skills
Diversity & Inclusion in the Workplace

Prerequisites: Prior to registering one must meet all requirements listed below.
Minimum age requirement – 18 years old.
Interest in learning or improving skills in food processing, safety and hospitality.
Reading comprehension with a Canadian Language Benchmark of 4
Access to computer or tablet and internet connection.
Ability to complete the course within the allotted time frame.
Curriculum: For a detailed overview of the program's course offering.  Please visit Program Curriculum
Criteria: Ability to comprehend and successfully pass all quizzes and evaluations with a minimum mark of 70%.
Food Processing Certificate of Completion awarded at the end of the program.
---
To apply please fill out the form here